Dear folks, its been a long time since we've updated about last Savitribai Phule Pune University Exam Timetable update. But Now, don't worry. You'll get them regularly.
Just before some time, university of pune has posted the updated schedule of the exam for final year engineering i. e. BE Students which are about to give exams in May 2016.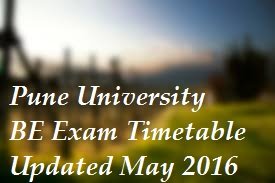 The BE Engineering May 2016 Exam Timetable has recently updated. So, don't refer that old one. Refer this new one. This timetable is made for both 2008 and 2012 batch students.
This timetable also includes the backlog subjects timetable. Please note the timings. Best of luck for the exams folks! Wish you best of luck for your career!
BE Civil

BE Mechanical (Mech)

BE Mechanical Sandwich

BE Electrical (ELE)

BE Electronics and Telecommunication (ENTC or EXTC)

BE Electronics (ELX)

BE Production (PRO)

BE Production Sandwich

BE Printing

BE Computer

BE Petrochemical (Petrochem)

BE Petroleum (Petro)

BE Chemical (Chem)

BE Polymer (Poly)\

BE Instrumentation and Control (Instru, INC)

BE Biotechnology (Biotech)

BE Automobile Engineering Result 2015 (SE Auto) 2008 course