Savitribai Phule Pune University Second Year Bachelor Of Pharmacy Timetable 2016 (2013 Course)
Unipune has released the timetable for its one of the most popular course. The Semester IV exam will start from 23'rd November 2016 and end on 7'th December 2016.  The semester III exam will start from 9'th December 2016 and end on 22'nd Decmber 2016.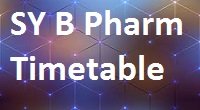 The practical exam will be there before theory exam. The 2008 backlog students have to appear for 2013 course exam only. Though there will be equivalence subjects.
Best of luck! Do let us know about your scores later!