Unipune Second Year, Third Year 2008 and 2013 Pattern Bachelor of Commerce Bcom April 2015 Exam Timetable, Schedule, Date Released by University of Pune
Savitribai Phule Pune University has released the examination timetable for the Second Year & Third Year Bachelor of Commerce (B.Com) 2008 and 2013 course students which will be conducted in April 2015 on the official site. The date exam is 30/3/2015 and will end on 9/4/2015. The practical examination of Second Year B.Com 2008 and 2013 pattern course will be conducted between 2/3/2015 to 16/3/2015.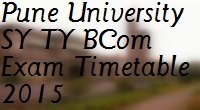 Starting from now, there is very less time left for the exam. Though it is possible to clear or even score the exam after studying a day before it but why not to start the studies from now and score more? We wish you best of luck for the examination. Study hard!!! Lets rock in the University of Pune.