Savitribai Phule Pune University, Unipune MCM (Master in Computer Management), MPM (Master in Personnel Management), MMM (Master in Marketing Management) Revised 2013 Pattern Exam Results June 2015
University of Pune has recently announced the results of their popular post graduation courses in Management field. They are MCM, MPM and MMM. We'll have look at the results of these courses including 4'th semester results one by one. Not that, here you will only able to see whether you are passed of failed in the exam.
To check the results, click on the appropriate link which is suitable for you. after opening the link, the PDF of result will be downloaded or shown in the browser if you are using chrome. To find your result in easier manner, just press 'Ctrl + F' and type your seat number if you are on PC. If you are on mobile then go to options -> 'Find in Page'. Then search for your seat number. If your seat number is not there that means you may not have cleared the exam.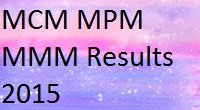 Note that here, you won't get the exact marks. You'll get those in your respected college.
In case of Unipune MCM 2013 pattern revised course exam, 256 students registered. Out of them only 1 was absent for the examination. Out of appeared students, 206 i. e. 81.75% students have successfully cleared the exam. and 47 are failed. Results of 3 candidates are reserved. Most i. e. 77 candidates got O grade. 61 got A Grade. 64 students have scored B grade. 4 students secured C grade and no one is having D or E grade.
In 3 management courses, most i. e. 539 candidates were registered for the Pune University MPM 2013 revised course exam. Only 14 students were absent and total 525 candidates appeared. Out of appeared students, 399 i. e. 76.29% students have successfully passed the exam and 138 failed. 30 got O grade. 107 got A grade. Most i. e. 191 got B grade. 70 students secured C grade in the exam. And surprisingly only 1 student got D grade. And no one is having E grade. Result of 2 students is reserved.
Last but not the least, MMM 2013 revised pattern course taken by University of Pune got the response of total 260 students. Here, only 7 candidates were absent and 253 appeared for the exam. Out of them 181 means 72.40% students have cleared the exam. 14 candidates got O grade. 25 got A grade. 99 Got B grade and 43 of them secured C grade. Like MCM course, no one has got D and E grade. Unfortunately, 76 students are failed in the exam and results of 3 students are reserved.
Congrats for those who are passed and don't get depressed if you are failed. Just study hard and smart next time. Best of Luck 🙂